Due to the intrinsic characteristics of optical fiber: good reliability, strong anti-interference ability, anti-electromagnetic interference, anti-corrosion, can work in harsh chemical environment, strong multiplex, etc.
Fiber Sensing Technologies are widely used in civil, industrial, areas, research, biotech, national defense, etc nowadays.
Fiber Sensing Technologies can be generally divided into three categories: interferometric, distributed, and grating-based as shown in below figure. Each category has a large variety diverse types of measurements and applications.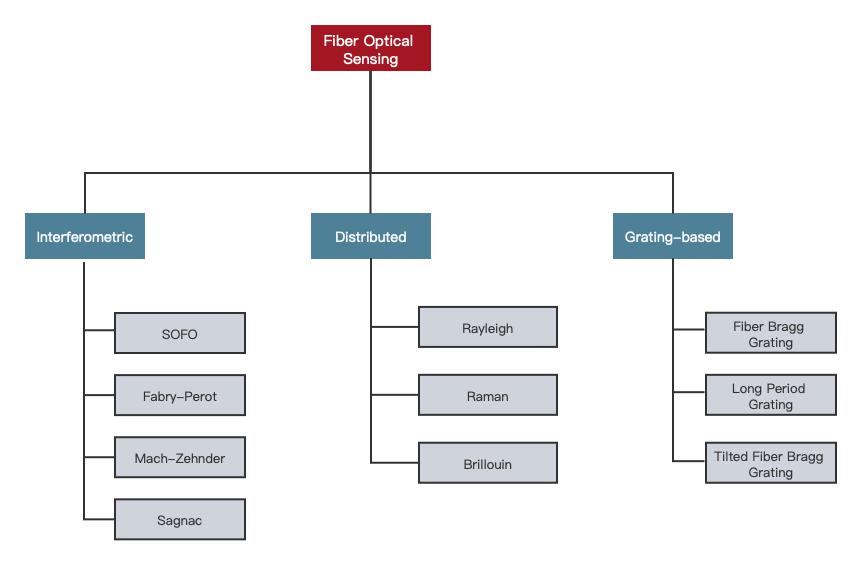 Their evaluation of common Fiber Sensing Technologies is summarized below in below table.



Fabry-Perot

SOFO

OTDR*

ROTDR

BOTDR

Grating-based

Sensor type

Point

Long gauge

Distributed

Distributed

Distributed

-Point-Semi-distributed

Main sensing parameters

-Temperature
-Strain
-Rotation
-Pressure

-Deformation
-Strain
-Force

-Fiber loss
-Break location

-Temperature

-Temperature
-Strain

-Temperature
-Strain
-Rotation
-Pressure

Multiplexing

-Parallel
-Time-division

-Parallel
-Time-division

Distributed

Distributed

Distributed

-Quasi distributed
-Wavelength-division

Advantages

-High sensitivity
-Accurate

-Long gauge
-High spatial resolution

Wide applications

-Infinite sensing points
-Fiber integrated

-Infinite sensing points
-Fiber integrated

-Linearity in response
-Accurate
-High resolution
-Inherent WDM encoding

Disadvantages

Single point

Low speed (10 s)

Detection limitations

-Temperature only
-High cost

Cross sensitivity

Cross sensitivity